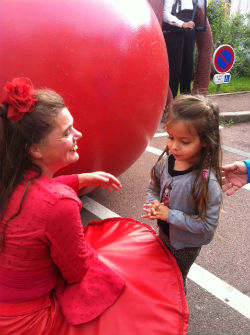 Een aantal weken geleden kregen wij een berichtje van een Franse moeder. Haar dochter had ons zien spelen Charleville en is sinds dien onze grootste fan! Haar moeder schreef:
"My daughter saw you in the streets of Charleville when she was 18 months. Today she is 4 and a half years old and continues to admire you. She watches on a loop for hours the video of your show which I found on the internet. She dreams to see you again."
En afgelopen weekend was het zover. We speelden Join the Parade in Montesson bij Parijs en hebben onze fan Melyne ontmoet. Wat een bijzondere ontmoeting voor zowel Marjolein als Melyne. Zij was zielsgelukkig om ons te ontmoeten en wij kunnen ons geluk niet op met zo`n lieve bewonderaar.